In still photography and moving pictures, Ruth Orkin created some of the most indelible images of the 20th century. With warmth, empathy, and humor, Orkin's body of work demonstrates what it is to be truly human behind the camera. This is Orkin at 100.
1920s & 1930s: Spirit of Adventure
"My life's work was determined by four passions which I had as a kid: film, photography, music, and travel … I realize now they all fell together in photography."
Born in 1921 in Boston, Massachusetts, Ruth Orkin spent her formative years in Hollywood, where her mother acted in silent films, having previously traveled the United States in vaudeville shows, keeping scrapbooks of pictures from her experiences. Her father, Sam Orkin, was a toy manufacturer who would go on to tour the nation with his detailed model battleships to raise money during World War II. Ruth's early life was spent against the backdrop of the Great Depression, during which her parents moved often in search of work. She received her first camera in 1931, at the age of 10, and by 12, the young photographer was already developing her own images, as well as a fondness for taking pictures of the celebrities and actors she admired. At 17, Ruth Orkin set out on a cross-country bicycle trip from Los Angeles to the 1939 World's Fair in New York City, stopping along the way to photograph the people and places she encountered.
1940s: Early Success
"I discovered that people who worked with a 35mm cameras were the ones who took the kinds of pictures that I liked … I didn't get a 35mm until I was 24."

While working as a messenger at MGM studios in Hollywood, Orkin found opportunities hard to come by — the cinematographer's union did not accept women, and in an attempt to gain experience as a filmmaker, she joined the Women's Auxiliary Army Corps in 1941 after reading promotional materials promising training in the field. That training never occurred, and after being discharged in 1943, Orkin moved to New York City, where she worked as a baby photographer by day and a club photographer by night. Newly armed with a professional camera, the early New York years proved fruitful for her as a freelancer – she spent much of her time on the street, taking photographs of daily life in real time. Her narrative style and sequence photography found a natural companion in the widely circulated picture magazines of the time, publications like Life, Ladies' Home Journal, Look, and many more. Her 1947 series The Card Players was the only sequence chosen by Edward Steichen for the landmark 1955 Museum of Modern Art exhibition, The Family of Man. It was around this time as well that she met Morris Engel, then a photography workshop teacher at the Photo League. Orkin would later humorously recall that she never took her future husband's course.
1950s: Wayfaring Years
"And then all of a sudden, this scene presented itself and something clicked in my head, and I said this is it! Get over there before those men change their position!"
Many of Orkin's most celebrated works were completed within only a few years of each other. After an assignment in Israel with Life, she traveled to Italy, where she met Jinx Allen (whose real name was Ninalee Allen, later Ninalee Craig) in the hallway of their dollar-a-day hotel in Florence. The two stuck an immediate creative partnership, resulting in Orkin's most acclaimed piece, An American Girl in Italy (1951). The spontaneous, carefree style and ingrained sense of enjoyment in the moment came to define Orkin's photography. In 1953, Orkin and Engel made Little Fugitive, a radically imaginative film that heavily influenced the emerging French New Wave filmmakers.
Throughout the decade, Orkin continued to travel and photograph everything from quotidian scenes to celebrities with her candid, essential method, whether it was Albert Einstein in the middle of a joke, or fresh snow piling atop parked cars in the street in Manhattan. She and Engel moved into an apartment on Central Park West in 1955, where her window view of the park became a recurring subject for her photography.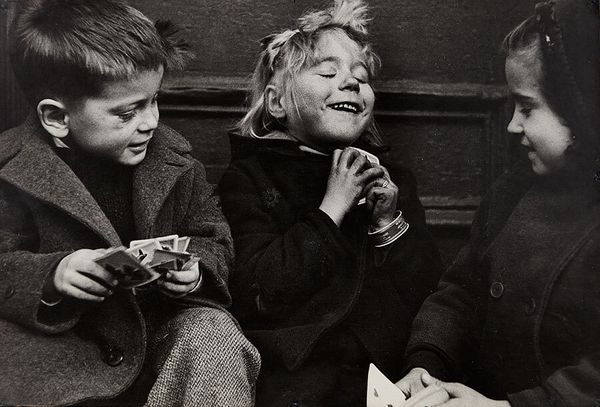 Ruth Orkin, The Card Players, New York City (1 of 5), 1947. Photographs New York.
1960s: Close to Home
"Being a photographer is making people look at what I want them to look at."
Inside her apartment, Orkin took countless photos of her two young children, Andy and Mary. From her window, she captured the changing seasons at the park and happenings down below, but Orkin was never satisfied with only an aerial view when life bustled and waited for her lens at ground level. She continued to work assignments, namely the 1964 World's Fair, and spent much of her time inside Central Park among the crowds that animated the green spaces and walkways she saw from her apartment. She never hesitated to walk up to subjects and introduce herself before asking for a photo, and her pictures during the decades encapsulated the many dimensions of Central Park: the beautiful natural scenery, the diverse array of visitors, the calmness and uncertainty of its shadows in equal measure, and always from her unique perspective of embracing the life of her subject.
1970s: New Frontiers
"I'm much more interested in documentary photography, things that record life."
Orkin's first retrospective took place at Nikon House in 1974. She gave lectures at the International Center of Photography and exhibited a collection of photographs at the Witkin Gallery, and along with publishing her first book, A World From My Window (1978), Orkin began selling prints of her work, signaling a sense of recognition from the gallery world that was then beginning to understand her photography within the wider context of Orkin's contributions to the art.
1980s & 1990s: A Growing Legacy
"What's important is what you're shooting, what it means to you. And if someone else, sometime, eventually calls it art, alright, then it's art photography."
Orkin published two more books, the autobiographical A Photo Journal (1981), and More Pictures From My Window (1983), before her passing in January of 1985 at the age of 63. Her legacy as a pioneer in photography and filmmaking has had a lasting influence on the mediums, and moreover an impact on narrative storytelling writ large. Mary Engel has since 1985 directed her archive (now called the Orkin/Engel Film and Photo Archive, after Morris' passing in 2005) with the goal of keeping her mother's photography accessible for future generations to understand the impact, joy, and brilliance of Orkin's work. In 1996, Mary, a filmmaker in her own right, wrote, produced, and directed Ruth Orkin: Frames of Life, a look back on her mother's life and photos through the words of her friends and subjects, and from which we've quoted Orkin's own words for this piece.
2000s to Today: Celebrating the Archive
"[One thing] I remember [from school] was this term 'singleness of purpose' - and it must've worked on me because when I made up my mind to do something, I did it."
Traces of Orkin's influence can be seen from her contemporaries in avant-garde film to the wider mainstream photography world, from François Truffaut's 400 Blows through to Todd Haynes' Carol, or in the true-to-life photography that typifies the cities she captured throughout her life. Her pictures of Central Park are a perfect example: her subject, one of the most photographed outdoor spaces in the world, is given a sense of lasting, of continuity. Where many take snapshots of a moment in the place and then move on, Orkin imbues time into the park. She gives it the seasons and parades, the shifting landscapes and evolving skyline, all interpreted through her lens, all experienced through her decades of examination. The same feeling rings true for all of her work. Orkin's photography carries an ageless energy of adventure, and she shows that it can be felt anywhere, be it an apartment window or thousands of miles away from home.
In recognition of Orkin's centennial, Hatje Cantz has published a new book of her work, featuring extensive archival images, writing, and insights. Fotografiska New York is also showcasing an exhibition of her photography, entitled Expressions of Life. Phillips' celebration of Orkin includes a choice offering of early prints of two signature works, An American Girl in Italy and The Card Players, in our upcoming October 7th Photographs auction.
Discover More from Photographs >
---
Recommended Reading